The Method
Work with Certified MNRI® Resource
This is a wonderful way to get started quickly.
However, although Dr. Masgutova has expanded her reach over the past 20 years through extensive training of MNRI students, access to Certified MNRI Resources still remains one of the biggest barriers to accessing the method. The best way to determine if any Certified MNRI Resources are available in your area is to check our MNRI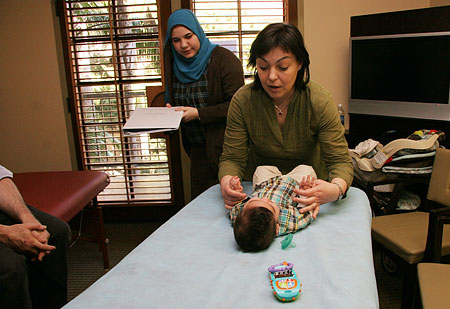 Specialist Directory. The profile provided for each MNRI Resource includes a name, contact number and/or email address, MNRI courses completed and conferences attended, MNRI certification level attained, professional title and educational degree attained. As you compare resource backgrounds, you will find there is great diversity among the group. MNRI students come from a wide variety of fields and have acquired varying levels of training and expertise. Their backgrounds are often highly complementary to the MNRI Method.
Five levels of MNRI certification are currently awarded to MNRI students by the Masgutova organization. Attainment of each certification level is based on the number of MNRI courses completed and MNRI Educational Family conferences actively attended. The highest level of attainment is the Certified MNRI Core Specialist. All MNRI students, regardless of certification level, have a base level of training that when combined with their respective professional backgrounds allows them to effectively apply the MNRI techniques they have learned. When choosing an MNRI resource to support your treatment needs, we always recommend that you choose certified MNRI resources who have completed their coursework and attained their certification directly with the Masgutova organization to ensure the techniques used and the general approach taken align with the rigorous MNRI standards put forth by Dr. Masgutova. More information regarding Certified MNRI Core Specialists and Certified MNRI Students is provided below to help you better understand the qualifying distinctions.
Certified MNRI Core Specialist
This is currently the highest level of achievement within the Masgutova organization. Certified MNRI Core Specialists have successfully:
Completed all MNRI foundation and core courses
Participated in at least four Family Educational Conferences
Mastered all MNRI Method content knowledge and technique application as demonstrated by final
MNRI practical exams
MNRI Students
Whether certified as Associates or Core Specialists-in-Training, all MNRI students are working toward their full MNRI Core Specialist certification. The following table summarizes the student title granted at each level along with the number of courses and Family Education Conferences required:
MNRI Resource Title Awarded
Minimum MNRI Requirement:

Courses

Educational Family Conferences
Certified
MNRI® Core Specialist-in-Training II
12
4
Certified
MNRI® Core Specialist-in-Training I
8
3
Certified
MRNI® Associate II
4
2
Certified
MRNI® Associate I
2
1